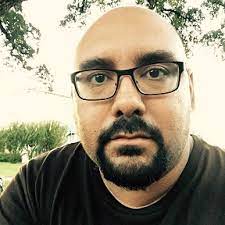 Join us for this book presentation by the author Christopher Carmona where he will talk about his novel series and its historical parallels.
El Rinche, is set in South Texas and challenges the Lone Ranger story with a Chicano Superhero in the early 20th century. Mexican Tejano families have been living in South Texas for hundreds of years. The completed railroad has brought another wave of Anglo settlers seeking new lands by any means necessary. Mexican Tejanos are being terrorized in the name of progress by a ruthless organization known as the Texas Rangers. What will this new Mexican Tejano superhero do?
Christopher Carmona is the author of El Rinche: The Ghost Ranger of the Rio Grande, which was a finalist for the 2019 Best Young Adult Novel for the Texas Institute of Letters and The Road to Llorona Park, which won the 2016 NACCS Tejas Best Fiction Award and was listed as one of the top 8 Latinx books in 2016 by NBCNews. His story, "Strange Leaves," was the third finalist in the Texas Observer Short Story Contest of 2014. He was also a Pushcart Prize nominee in 2013. He has published three books of poetry: beat, I Have Always Been Here, & 140 Twitter Poems. He has been published in numerous journals and magazines including Trickster Literary Journal, Interstice, vandal., Bordersenses, & the Sagebrush Review. He has co-edited an anthology called Outrage: A Protest Anthology about Injustice in a Post 9/11 World for Slough Press and was a co-editor for The Beatest State in The Union: An Anthology of Beat Texas Writing. He was also a co-author for a scholarly conversation book entitled Nuev@s Voces Poeticas: A Dialogue about New Chican@ Identities. Currently, he is working on a series of bilingual YA novels entitled El Rinche: The Ghost Ranger of the Rio Grande. Book Two is out now.